Commercial Irrigation Systems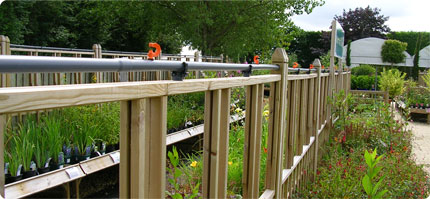 Complete Irrigation Systems design and install automatic and manual systems for all aspects of commercial plant growing and sales.
Systems can include:
Overhead sprinklers or spray lines for total cover of an area.
Drip systems for controlled accurate water application.
Flood beds and benches for roses and specimen plants.
Manual watering with hoses and hand lances.




Variable speed pumps for saving on energy costs.
Dosatron Dilutor for feed application.
Nitric acid injection systems for P.H. corrections.
A well maintained irrigation system is more water efficient.
We offer maitenance which includes a Winter drain down and Spring start-up visits.