Garden and Landscape Irrigation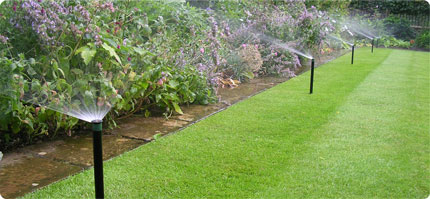 Complete Irrigation Systems design and install automatic systems from small gardens to large landscapes.
The systems can include:
Drippers for hanging baskets, pots and other planted containers.
Individual Drip Systems for trees and specimen plants.
In-line drip pipe for flower and shrub borders or new hedge planting.
Micro Sprinklers for large areas of planting.
Pop-up Sprinklers for lawns and new turf.
Automatic Systems controlled by an efficient and easy to use timer unit.
Rain sensors installed to prevent watering during and after rainfall.
Battery Timers -Cost effective for hanging basket systems and small gardens.
Water Supply – please view the relevant page for information on Water Supply.
A well maintained irrigation system is more water efficient.
We offer maintenance which includes a Winter drain down and Spring start-up visits.